Ingredients
1 shallot, chopped
14 oz package of medium tofu
3 tbsp nutritional yeast
2 tbsp olive oil or avocado oil
2 tsp garlic powder
½ tsp turmeric
½ tsp vegetable bouillon powder or paste ( I like better than bouillon)
1 tsp black salt also known as Kala Namak
1/4 tsp black pepper
3 tbsp brown rice flour
1 tbsp cornstarch
¼ cup – ½ cup vegan unsweetened soy milk
Sea salt & black pepper to taste
FOR THE FILLINGS:
2 tbsp vegan-friendly butter or margarine
2 shallots
2 garlic cloves
4 cups cremini mushrooms
½ cup dairy-free Cheese (optional)
2 cups baby spinach
Chives, for garnish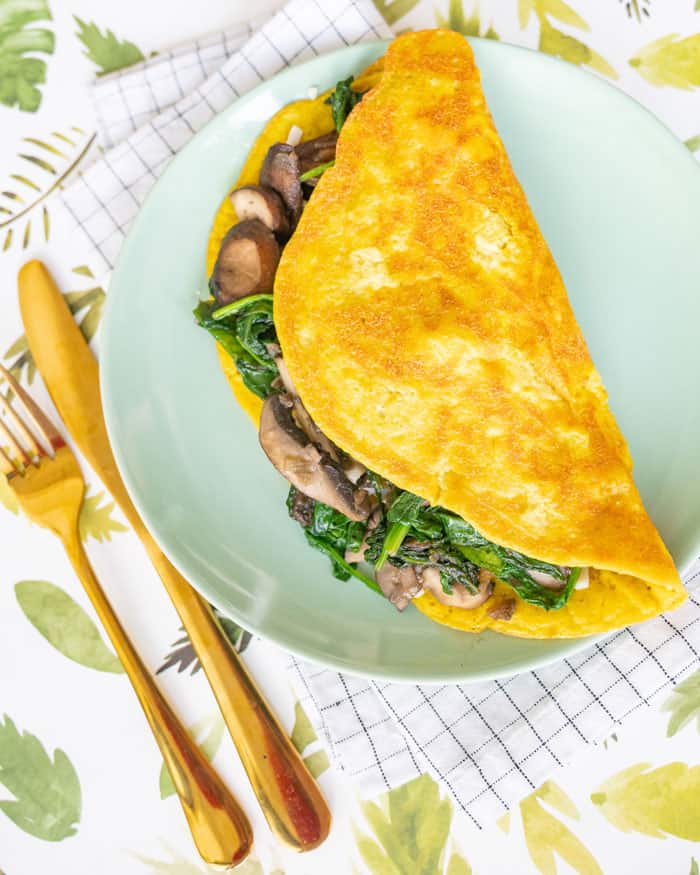 THE BEST VEGAN OMELET: HOW TO MAKE A VEGAN OMELET WITHOUT EGGS
Recipe Rating:
VEGAN
Whether you spell it omelette or omelet, the main thing is that this omelet is made without eggs and or the typical vegan substitute; chickpea flour (yuck)! I've created the BEST vegan omelet recipe, and can't wait to share with you how to make it!
Feel free to share & print my recipe below to make your own Vegan Omelet! Or you can watch me on YouTube show you how to make it!
0 of 1 minute, 47 secondsVolume 0%
01:46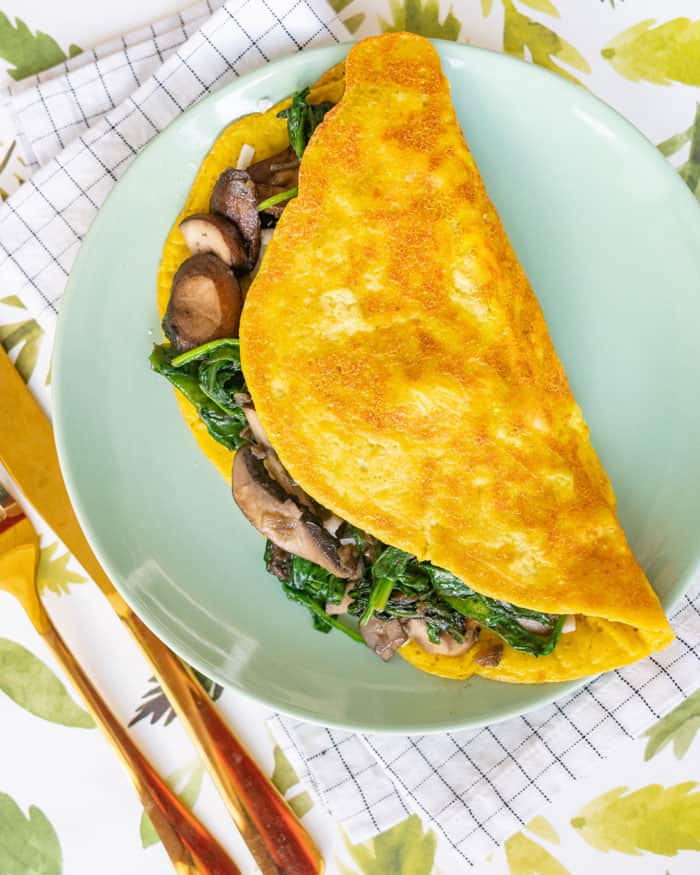 Related Recipe: Vegan Eggs Benedict
Hi, I'm Candice & welcome to The Edgy Veg! Where I try to veganize popular food for vegans, plant-based diets, eco-conscious eaters & people who are trying to eat more plants over… y'know animals or by-products of animals.
After perfecting vegan scrambled eggs in my Tofu Scramble Florentine recipe, I knew the next thing I needed to create was the perfect vegan omelet. I've tried a few vegan omelets both at home and at vegan restaurants, but the one I'm about to share with you is EGGCELLENT (insert Mr Burns visual here.. hehe). It is fluffy, golden, stuffed with classic fillings, and the recipe yields enough to serve to an entire group at brunch (tip: you can also make the Ginger Kombucha Mimosas in my cookbook).
How To Make: The BEST Vegan Omelet
Never miss a video by clicking here to Subscribe to my Channel
If you want to view or print the recipe card, just scroll down for the full list of ingredients & simple instructions on how to make this Vegan Omelette.
To be honest, there are quite a few vegan omelet recipes floating around the internet, but most resemble a sad tortilla more than a classic brunch food. Most vegan omelet recipes I have seen are also chickpea flour-based; not my cup of tea to be honest. The goal is to make an omelette after all, not a pancake.
I've been on a mission to make the BEST vegan omelet and have experimented when it comes to the look, smell, texture, and taste so similar to an actual egg omelet. With many trial and errors, I've finally created the BEST vegan omelet, and I'm thrilled to share it with you here.
The secret is using medium tofu, brown rice flour, and corn starch to make the omelet turn out fluffy, golden, and perfect to hold classic omelet fillings and accompany other brunch foods.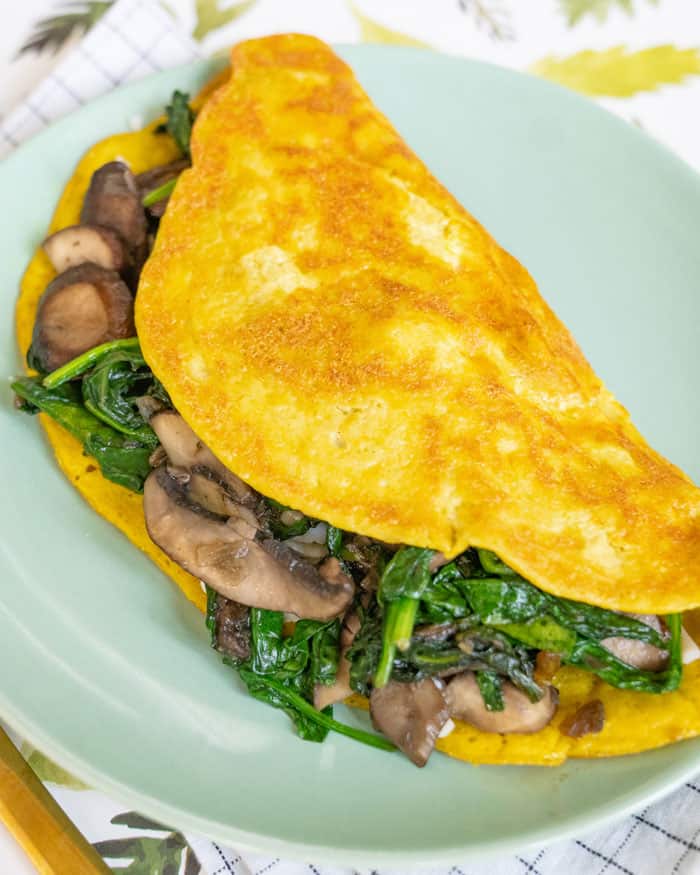 Related Recipe: Tofu Scramble Florentine
INGREDIENTS FOR BEST VEGAN OMELET
FOR THE TOFU BATTER:
FOR THE FILLINGS:
INSTRUCTIONS FOR THE BEST VEGAN OMELET
This recipe is all about flavour and texture. To start, heat oil over medium-high heat, and cook chopped shallot until it becomes translucent and fragrant. Once cooked, put the onion in a blender with medium tofu, nutritional yeast, olive or avocado oil, garlic powder, turmeric. As you're blending, add about a tablespoon at a time of soy milk to help the mixture blend. Puree this until it becomes a smooth paste, scrape down the sides of the food processor when needed. Add cornstarch, bouillon, and rice flour to the food processor and blend again for another 30 seconds, add black salt and pepper, and more soy milk if needed, blend again. The mixture will become thick, similar to the consistency of pancake batter. Set this aside.
In a nonstick skillet, heat vegan butter and sauté minced garlic, shallot, and chopped mushrooms until mushrooms are browned, add spinach and cook until wilted, remove from the pan and set aside.
In a large, nonstick skillet, heat vegan butter over medium heat to coat the pan. Add half of the tofu batter, and spread it gently and evenly with a spatula to cover the bottom of the skillet completely. Cover with a lid and cook for 5-8 minutes, or until the top of the omelet seems dry. With a spatula, gently loosen the omelet from the bottom of the pan and carefully flip over to cook on the other side for 2 minutes. Add toppings to one half of the omelet, then gently flip the other side over to cover the fillings. Move to a serving plate and garnish with chives. Repeat with remaining batter and fillings.