Miso Glazed Grilled Veggies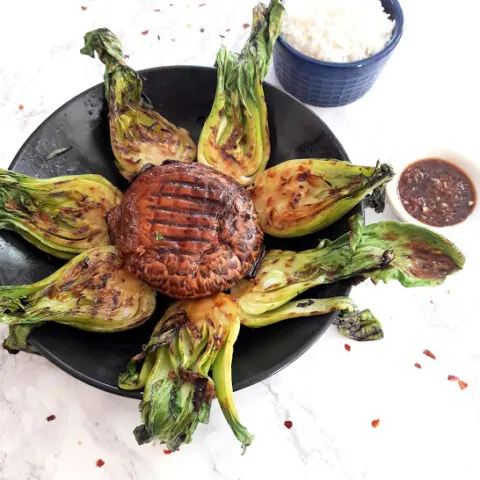 prep time: 10 MINUTES cook time: 10 MINUTES total time: 20 MINUTES
Miso Glazed Grilled Veggies is a quick and easy vegetable recipe loaded with nutrients and perfect for weeknight dinners. This delicious Japanese vegetable recipe is vegan and gluten free.
Ingredients
1/2 cup miso paste (soy bean paste)
1/2 cup tamari, or liquid coconut amino, or low sodium soy sauce
1 tbsp brown sugar
2 teaspoons sesame oil
2 teaspoons minced garlic
2 teaspoons minced ginger
1 tsp togarashi seasoning adjust per taste
6 portobello mushroom caps – trimmed and cleaned
6 baby bok choy halved
Instructions
To make the glaze: In a large bowl combine the miso paste, tamari or soy sauce, sugar, sesame oil, shichimi togarashi and minced ginger and garlic.
Preheat grill to medium.
Brush the portobello mushrooms and baby bok choy with the glaze. Place them face down on the hot grill. Grill over medium heat until you hear good sizzle and see nice grill marks. Mushrooms start to release water.
Using the tongs, flip the veggies and brush the top part with the glaze. Let the other side cook for few more minutes.
Turn off the grill. Remove the veggies for the grill. Brush the glaze one last time before serving. Serve warm.
Nutrition Information:
YIELD: 6 SERVING SIZE: 1
Amount Per Serving: CALORIES: 120TOTAL FAT: 4gSATURATED FAT: 1gTRANS FAT: 0gUNSATURATED FAT: 2gCHOLESTEROL: 0mgCARBOHYDRATES: 15gFIBER: 4gSUGAR: 6gPROTEIN: 10g