Lentil Quinoa Soup – Instant Pot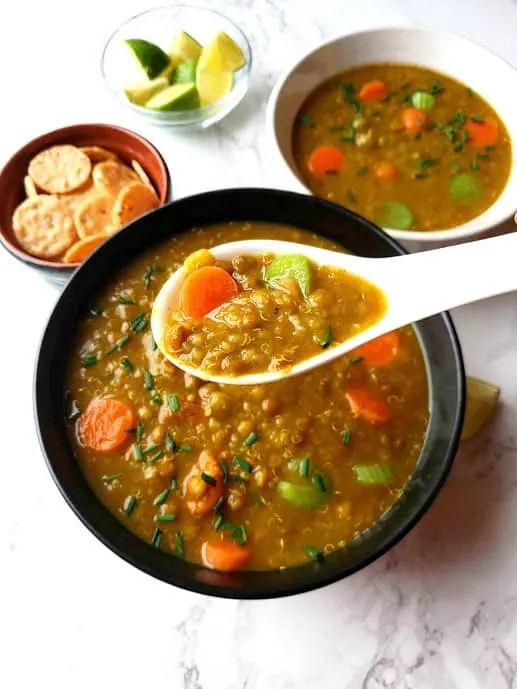 yield: 6 CUPS prep time: 10 MINUTES cook time: 15 MINUTES total time: 25 MINUTES
Hearty and wholesome Instant Pot Lentil Quinoa Vegetable Soup is easy to make at home. This super food packed soup is vegan, gluten free, WFPB compliant and low calorie high protine wonder meal.
Ingredients
1 cup dry brown or green lentils – washed and rinsed
1/2 cup quinoa rinsed
2 carrots chopped
2 stalks celery, chopped
1 onion, diced
3-4 cloves garlic, minced
4 cups water or broth – add more for thinner soup
1 tsp curry powder
1/2 tsp turmeric powder
1/2 tsp Umami Seasoning Blend (optional )
1/2 tsp smoked paprika
1 tbsp lemon juice
salt and pepper to tast
Instructions
INSTANT POT INSTRUCTIONS
Add all the ingredients to the Instant Pot. Stir.
Close the lid. Switch the vent to "sealing". Choose MANUAL ( Pressure cook) mode, choose High Pressure and adjust the time to 6 minutes.https://d6de6b3ec27e08f6dc41dd0674bd2c0d.safeframe.googlesyndication.com/safeframe/1-0-38/html/container.html
It will take around 10 minutes to get up to pressure.
When the InstantPot finishes cooking, wait on KEEP WARM timer for at least 5 minutes. Then move the valve to "venting". After the pressure is released, and pin is down, carefully open the lid.
Give the soup a good stir. Adjust the seasoning. Squeeze a quater of lemon or stir in lemon juice. Adjust the seasoning. Add some fresh cracked black pepper on top and garnish with fresh herbs..And devour !!
STOVE TOP INSTRUCTIONS
Warm up the heavy-bottomed saucepan on medium heat. Add all the ingredients and cook on medium until lentils are soft (about 30 minutes). Do check and stir every 10 minutes so things don't burn on the bottom layer.
SLOW COOKER INSTRUCTIONS
Put all ingredients in your slow cooker. Cover the pot. Set the timer for 6 hours on low setting and let it cook.  Give it a good stir before serving.
Nutrition Information:
 YIELD: 4 SERVING SIZE: 1.5 cup
Amount Per Serving: CALORIES: 146TOTAL FAT: 2gSATURATED FAT: 0gTRANS FAT: 0gUNSATURATED FAT: 1gCHOLESTEROL: 2mgCARBOHYDRATES: 26gFIBER: 7gSUGAR: 5gPROTEIN: 8g