Instant Pot Creamy White Bean and Spinach Vegan Soup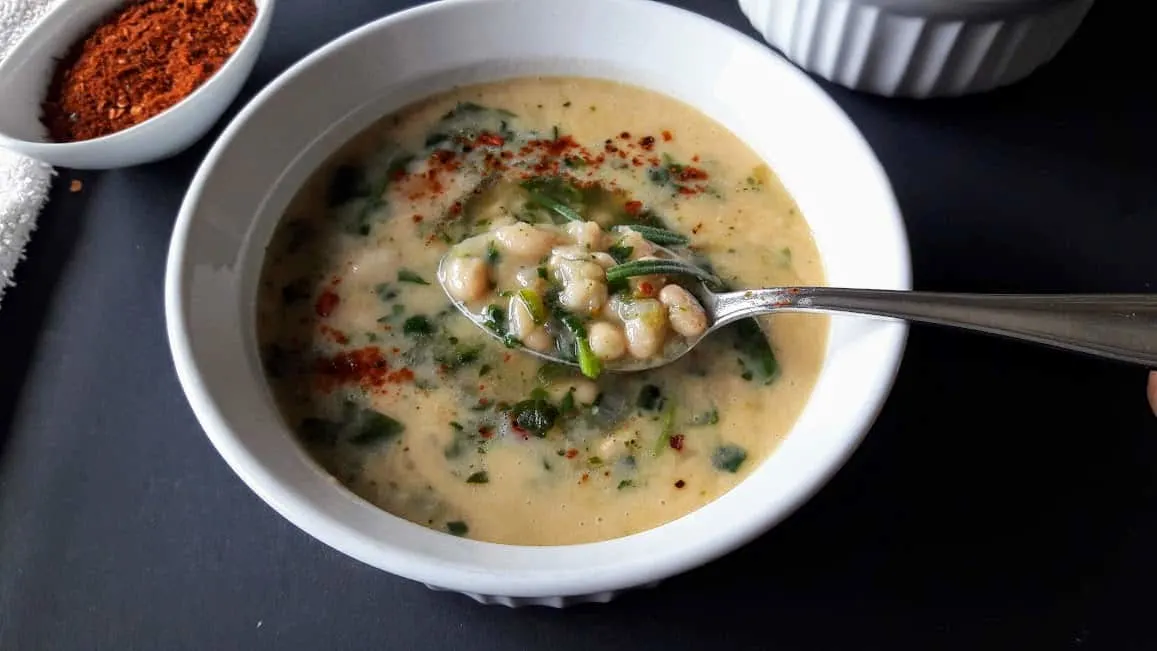 yield: 9 CUPS prep time: 10 MINUTES cook time: 30 MINUTES pressure build time: 20 MINUTES total time: 1 HOUR
CREAMY WHITE BEAN AND SPINACH SOUP makes a delicious meal full of delicate flavors and refreshing taste. You will love this plant based protein rich soup loaded with super greens.
Ingredients
2 cups dry navy beans
6 cups vegetable stock or water
2 cups packed chopped baby spinach
1 tablespoon oil
1 medium yellow onion, small dice
1 cup carrots, small dice
1 cup celery small dice
3 cloves garlic, minced
1 tsp All Purpose Seasoning, I like Trader Joe's 21 seasoning salute
1 sprig fresh rosemary, minced
2 tablespoons fresh lemon juice
sea salt , ground black pepper and chili flakes , to taste
Instructions
Wash and rinse the beans well under running water. Put InstantPot on sauté mode. When it displays HOT, add oil. Add the onions, carrots, and celery to the pot and stir. Sprinkle some salt. Sauté the vegetables until lightly softened and translucent, about 5 minutes.
To the pot, add the garlic, all purpose seasoning, chili flakes, and rosemary. Stir and cook until garlic is fragrant, about 30 seconds. Add the washed navy beans to the pot and stir. Add the vegetable stock or water to the pot and stir once more. Cancel sauté mode. Close the lid. Select BEAN mode or choose 30 minute High Pressure and let InstantPot do it's magic !
Once it goes to keep warm timer, after it is done cooking, wait for 10 mins and then release the pressure. Open the lid.
Ladle 1/4 of the soup into an upright blender. Let it cool down before you blend. ( You can also use immersion blender and blend the soup in the pot for couple times) Add some of the lemon juice to the blender as well. Carefully bring the speed of the blender up to high and blend until this portion of the soup is totally liquified. Pour this liquified portion back into the pot. Season the soup with salt and pepper.
Put the Instant Pot back on Sauté mode. Add the baby spinach to the pot and let the soup come to a boil. Once the spinach is slightly wilted and bright green. Drizzle lemon juice and chili flakes , adjust salt and pepper, if needed. Cancel sauté. Your yummy soup is ready. Enjoy this creamy warm goodness bowlful !
How to Make this Soup on Stove-top
If you are making it on stove top in stockpot, use canned cooked beans to save cooking time. All other instructions are the same except the InstantPot reference. Follow steps to sauté and blending the 1/4 soup for thicker broth. Let the soup simmer for 12-15 minutes on medium low heat. Drizzle lemon juice and chili flakes , adjust salt and pepper, if needed. Your yummy soup is ready. Enjoy this creamy warm goodness bowlful !
Notes
Notes
* To make this soup Oil Free , simply skip the oil sautéing part and use 1 tbsp. of extra water instead.
* The BEAN setting is automatic setting on Instant Pot. It is 30 minutes on high pressure. You have to factor in amount it takes the instantpot to come to pressure. So overall, from start to finish, this recipe gets done in an hour.
Nutrition Information:
YIELD: 6 SERVING SIZE: 1.5 cup
Amount Per Serving: CALORIES: 296TOTAL FAT: 4gSATURATED FAT: 0gTRANS FAT: 0gUNSATURATED FAT: 3gCHOLESTEROL: 0mgCARBOHYDRATES: 51gFIBER: 13gSUGAR: 6gPROTEIN: 17g