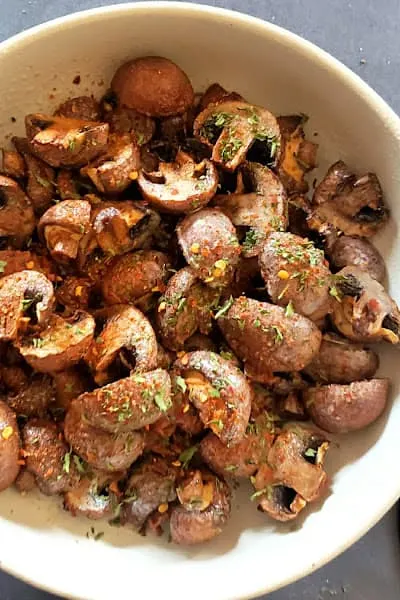 yield: 4 prep time: 5 MINUTES cook time: 10 MINUTES total time: 15 MINUTES
Air Fryer Mushrooms are caramelized and roasted to perfection. Low in fat, these flavorful mushrooms are a healthier way to eat your veggies.
Ingredients
6 cups Mushrooms – diced
1 Tablespoon Oil or Oil Spray ( skip for WFPB cooking and use water or vegetable broth)
1/2 teaspoon onion and garlic powder
Salt and ground black pepper to taste
Optional Garnishes
Dried herbs parsley, red pepper flakes, fresh herbs like rosemary, lemon wedges
Useful Kitchen Items
Air Fryer
Silicon / Wooden Spatula
Oven Mitts
Instructions
Wash mushrooms under running water. Scrub off dirt on the stems and under the caps. Let them drain in a colander and pat dry with paper towel before using.
Cut them in half. If you have bigger sized mushrooms, cut them into quarters. Do not make thin slices.
Add mushrooms to a mixing bowl, add oil, black pepper, salt, onion and garlic powder. Toss to combine and coat.
Put seasoned mushrooms into air fryer basket. Set temperature to 375°Fahreheit and put the timer for 8 to 10 minutes. Mid way through air frying, gently toss the mushrooms with a wooden or silicon spatula.
Serve warm with optional garnishes sprinkled on top and with your choice of dip, spread or dressing. Enjoy !
Notes
STORING
Air fried Mushrooms are best when served immediately after making. Serve warm or at room temperature. However have leftovers, keep them in a air tight container in the refrigerator for up to 3 days.
REHEATING
Reheat the mushrooms in the air fryer at 325 degree Fahrenheit for 3 to 5 mins or till heated through. You can also do this in the microwave at 30 seconds intervals till warmed through.
Air Fryer temperatures and cooking times vary widely amongst different brands. If your air fryer has a tendency to burn food quickly, choose lower temperature.
Nutrition Information:
YIELD: 4 SERVING SIZE: 1 cup
Amount Per Serving: CALORIES: 122TOTAL FAT: 8gSATURATED FAT: 1gTRANS FAT: 0gUNSATURATED FAT: 7gCHOLESTEROL: 0mgSODIUM: 151mgCARBOHYDRATES: 10gFIBER: 5gSUGAR: 4gPROTEIN: 4g