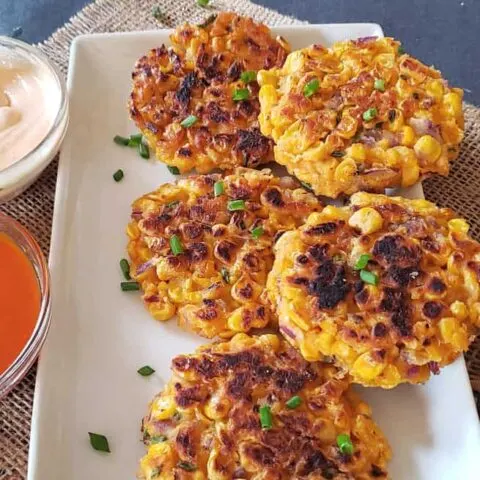 yield: 6 prep time: 10 MINUTES cook time: 15 MINUTES total time: 25 MINUTES
Air fryer corn fritters are perfect for appetizer, snack, breakfast, lunch, or hearty dinner. These are vegan and gluten free corn fritters
Ingredients
1 cup corn – coarsely grind the kernels
1 cup chickpea flour
1/4 cup rice flour
1 small onion finely chopped
2 garlic cloves minced
1 teaspoon onion garlic salt or all purpose seasoning
1/2 teaspoon cayenne pepper
1/4 teaspoon ground black pepper
Salt – per taste
Oil Spray
Fresh chives or parsley for garnish
Useful Kitchen Tools
Air Fryer
Oven Mitts
Corn Cobber
Instructions
Coarsely grind the corn kernels. In a large mixing bowl, combine all the ingredients. Mix well and form a dough. Divide mixture into six equal parts. Make round balls and flatten them like small pancakes
If using an air fryer : Preheat the air fryer at 350 degrees Fahrenheit. Grease the air fryer basket with oil spray. Place the fritters on the basket. Put it in the air fryer. Choose 350 degrees Fahrenheit for 12 minutes. Halfway through, open the lid, flip the fritters , spray some oil and air fry further. Once done, serve immediately.https://2cc37c2c9af383eec21b8e16a75f0965.safeframe.googlesyndication.com/safeframe/1-0-38/html/container.html
If using a Pan frying Method : Heat olive oil in a large skillet over medium high heat. Scoop tablespoons of batter for each fritter, flattening with a spatula, and cook until the underside is nicely golden brown, about 3-5 minutes. Flip and cook on the other side, about 2-3 minutes longer. Serve immediately.
If baking in the oven : Place the prepared fritters on the greased baking sheet and bake at a preheated 375 degrees Fahrenheit oven for 20 minutes. For crisp baking, I recommend you use a crisp baking tray. Halfway through, open the lid, flip the fritters , spray some oil and bake further. Once done, serve immediately.
Notes
Corn fritters store well in air tight container in the refrigerator for up to one week. To re-heat, place in a lightly greased skillet over medium heat and cook until warmed throughout OR place in a pre-heated 375 Fahrenheit oven until warmed throughout.
Serve these fritters along with creamy dip for quick perk me up. Avocado Cilantro Dip, spicy mayo, ketchup or ranch dressing are all great choices. For a quick afternoon snack, I love to pair it with Indian Masala Chai.
Nutrition Information:
YIELD: 6 SERVING SIZE: 1 fritter
Amount Per Serving: CALORIES: 215TOTAL FAT: 2gSATURATED FAT: 0gTRANS FAT: 0gUNSATURATED FAT: 1gCHOLESTEROL: 0mgCARBOHYDRATES: 44gFIBER: 4gSUGAR: 3gPROTEIN: 6g